For the prevention and treatment of various diseases, honey and ginger are an extremely delicious combination that is commonly used. In this article, you will get acquainted with the properties of the combination of ginger and honey; You will learn how to use it to treat colds, you will know that this combination is useful for weight loss and even preventing facial wrinkles, and you will also learn how to prepare and maintain it.
Chemical composition and calorie content
The caloric content of the final product depends on the composition of the ingredients. Therefore, depending on the type, honey contains 300 to 330 kcal per 100 g and ginger root contains 80 kcal. You can often find a delicious meal with an energy value of about 280 kcal.
The combination of honey and ginger contains a lot of the following:
Sugars – fructose, glucose, etc .;

Vitamins, including A, E, C, K, PP and B group;

Micro and macro elements – Fe, K, Mg, Mn, P;

Flavonoids;

Essential oil;

Organic acids.
These are just some of the benefits of honey and ginger. But only natural products can have such a rich composition. Therefore, the purchase of honey, ginger or ingredients for the preparation of such compounds should be done only from reputable suppliers.
Properties of ginger and honey:
This compound, thanks to its beneficial substances and antioxidants, has a beneficial effect on the functioning of most body systems. Accelerates metabolism, removes toxins, stimulates the brain and prevents natural aging. To benefit, you should eat 1 teaspoon of this combination 1-2 times a day.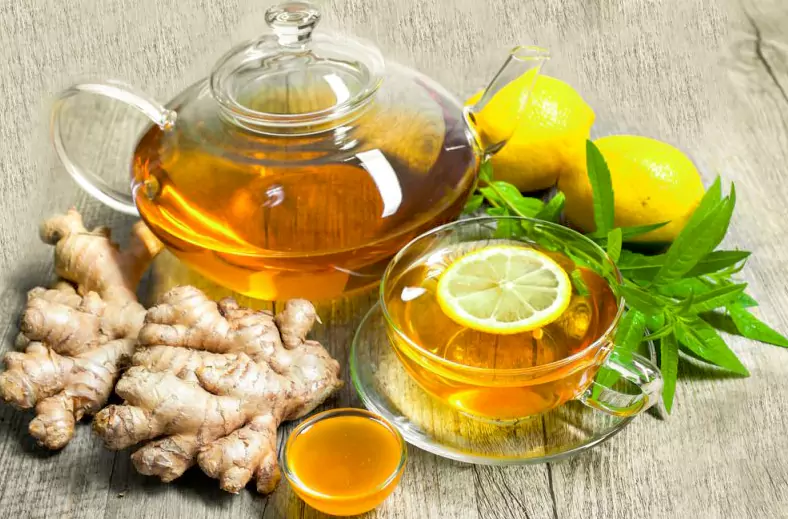 Honey and ginger, useful properties:
Improves health;

Increases safety;

Relieves inflammation;

Accelerates tissue regeneration;

Eliminates pain syndrome;

Fights viruses and bacteria;

Rejuvenates.
Slimming with a combination of ginger and honey
Ginger honey is often used for weight loss. Here is how this combination works:
Prevent fat absorption;

Normalization of metabolism;

Improve intestinal motility;

Removal of toxins and toxins;

Eliminate excess intercellular fluid;

Reduce appetite and quench hunger.
To increase the effect, nutritionists recommend that you consume honey and ginger regularly, along with a cup of green tea with lemon. It is impossible to add honey to hot tea, because its beneficial properties are lost under the influence of high temperatures.
How to prepare
Ready-to-eat honey with ginger can be found on store shelves. The main thing is to make sure that the product is natural and does not contain any extra ingredients. Some housewives make this combination themselves:
Peel a squash, grate it and chop it in a meat grinder or blender.

Add honey and mix thoroughly;

Let 7 days pass.
Ratios may vary. To achieve a general therapeutic effect, 50-70 grams of roots in 500 ml of honey is sufficient. To treat colds, you can combine the ratio of 70 grams of ginger in 100 grams of honey.
Ginger and honey mask
The benefits of honey with ginger have also made it popular in beauty. In particular, this mixture is used in the manufacture of face masks.
Beauty tips:
Firming and rejuvenating. Apply a thin layer of ginger honey on your face. Leave on for 15 minutes and then rinse with warm water. Repeat 2 times a week.

Nourishes sensitive skin. Mix ginger honey with lemon juice in a ratio of 2: 1. Use the same method as before.

Improves skin freshness. Take 1 tablespoon of orange juice and white yogurt, add 2 tablespoons of honey and ginger and mix thoroughly. Apply on face for 15-20 minutes.
Honey cream with ginger will be very suitable for preparing masks due to its delicate uniform texture.
Storage rules
Store honey with ginger in a tight container in the refrigerator or in a dark place at room temperature. The shelf life of the product is at least 12 months. The combination of honey and ginger can stay in the refrigerator without losing its properties from six months.
Concluding remarks
Honey and ginger are delicious and extremely valuable gifts from nature. Despite the low cost of preparing this compound, the properties of honey and ginger are very high: it can treat colds and prevent the complications of acute respiratory infections; Lose weight and improve mood and keep your body warm on a rainy or icy day. The stated benefits for combining honey and ginger go beyond the properties of honey alone.
References: