Honey is a natural product that is widely used in the food industry. On the other hand, the properties of honey are not limited to its use in treatment and medicine, and it is also used seriously in cosmetics.
Benefits of honey for women
This product is useful to maintain the elasticity and youthfulness of the skin and is used as a mask and scrub. Honey is also widely used in the treatment of gynecological diseases caused by infection and physiological changes. Eating this product also helps to get rid of fatigue and normalize the menstrual cycle. In addition, other properties of honey are provided for women at your service.
Boosting immunity system
Due to the rich vitamins and minerals in honey, its daily use can strengthen the immune system without the use of drugs. This product is able to strengthen the body weakened by colds and also has a soothing effect for coughs and sore throats. To improve the general condition of the body, you can use honey-based vitamin cocktail, which contains the following ingredients:
Honey – 50 grams;
Walnuts – 100 g;
Fresh apple juice – 100 g;
Juice of a lemon.
Walnuts should be crushed into powder and poured into honey. The resulting mass is mixed with lemon juice and apples. Drink 1 tablespoon of the prepared cocktail. It is best taken on an empty stomach for a month.
Note that in high acidity, the daily consumption of honey is 100 grams, which is recommended to be divided into 3 doses.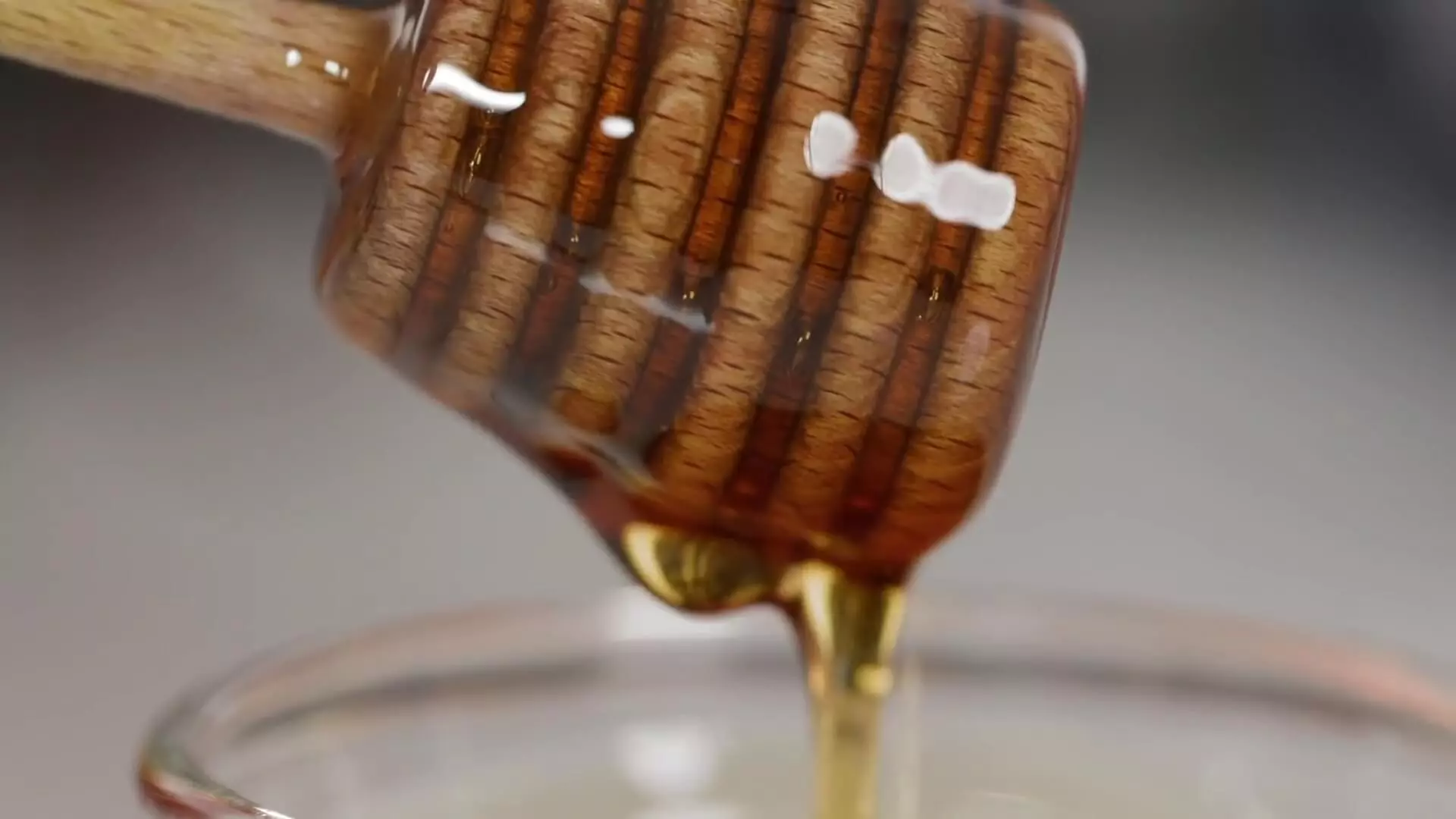 For the heart and blood vessels
Due to its high glucose content, honey is useful in preventing cardiovascular disease. Glucose has a beneficial effect on the heart muscle. The best way to strengthen the walls of blood vessels is to use honey in combination with dried fruits and nuts.
To prepare a useful mixture, you need the following:
Raisins – 50 g;
Dried apricots – 50 g;
Dried plums – 50 g;
Walnuts – 50 grams;
Peanuts – 50 grams;
Honey – 100 g.
Instructions for preparation and use:
Finely chop the dried fruit.
Chop the nuts in a blender.
Mix all ingredients until smooth.
It is recommended to take this combination on an empty stomach daily.
For digestion and liver
Honey is one of the products that can be used to aggravate gastritis. Dissolve 10 grams of honey in 200 ml of warm water and drink it during the day. This solution relieves spasms. With gastritis, it is necessary to consume 10 grams of honey daily for 2 months. This process accelerates the healing of the damaged stomach walls and reduces post-meal pain.
It is important! A glass of warm water with the addition of 30 grams of honey during sleep, has a strengthening and calming effect.
The course of treatment should be repeated after 3 months. The liver is responsible for the vital functions of the whole organism. Proper nutrition is one of the main conditions for liver treatment. Honey, as a natural sugar substitute, is good for a diet and in combination with rose decoction can improve liver function. Drink rose tea daily with the addition of honey for a month and its amount should be 150 grams per day.
It is interesting to know that honey is a natural antibiotic, so it never molds.
For the nervous system
Many women experience stressful situations on a daily basis that negatively affect the nervous system. To improve health and regain strength, the use of honey is essential. Thanks to its calcium and B vitamins, this substance can affect the normalization of sleep and also has analgesic and relaxing effects. In case of depression, it is necessary to carry out a course of treatment with honey, which is consumed for 30 days 3 times a day for 30 grams. After treatment, the mood improves and the apathy disappears.
It is important! If you experience itching or redness during skin treatments with honey, stop using it.
For skin and hair
Daily consumption of honey on an empty stomach helps to normalize metabolism, which in turn will have a beneficial effect on skin color and hair condition. Due to its moisture retention properties, using a natural honey mask can prevent premature aging of the skin. It is a natural antioxidant for the skin that protects it from harmful UV rays. Honey masks have a cleansing effect.
Benefits of using honey for hair removal:
Water supply;
Improve hair growth;
Hair strengthening;
Volume the hair.
For gums and teeth
Due to the fact that honey contains calcium in its chemical composition, its consumption helps to strengthen tooth enamel. If you chew honey with wax twice a week, you can get rid of toothpaste, and thanks to the special combination of wax and propolis (contained in honey with wax), the color of tooth enamel will be noticeably white. Mixing honey with propolis helps treat gum damage and bleeding. To do this treatment, the substance is applied to the gums and teeth and rinsed off after 3 minutes.
It is interesting to know that in order to collect 100 grams of honey, a bee travels a distance of 46,000 kilometers, which is equal to the length of the equator.
During pregnancy
Using honey during pregnancy can be a substitute for cold medicine. Honey completely eliminates sputum when coughing and also reduces sore throat.
Pregnant women are advised to use honey for insomnia and stress. Consumption of 10 grams of honey on an empty stomach helps to normalize bowel activity, which is essential during childbirth.
Pregnant women use honey as a prophylaxis against the symptoms of stretch marks in the abdomen and chest. In this regard, parts of the body are covered with honey and gently rubbed into the skin for 15 minutes, then washed in a warm shower. The main contraindication to honey consumption is its allergy, which is manifested by rashes and skin blemishes.
It is strongly recommended that you consult your doctor before consuming honey during pregnancy.
During breastfeeding
Honey is used with caution during breastfeeding: 1. Due to the high risk of infection of the baby with botulism, which may have bacteria in unpasteurized honey, and 2. Due to the high sensitivity of the product. The use of honey by a breastfeeding mother can start from 6 months of age, but provided that this product is gradually included in the daily diet so as not to cause an allergic reaction.
It is strongly recommended that you consult your doctor before consuming honey while breastfeeding.
In diabetes
Diabetes is characterized by abnormal carbohydrate metabolism and complete or partial dependence on insulin. Diabetics follow a diet throughout their lives, especially with careful monitoring of sugar intake.
In diabetes, 10 grams of honey per day is consumed to relieve neurosis and increase immunity. Treatment with this product should be completely under the supervision of a physician due to the risk of exacerbation of the disease due to the consumption of sugar in honey.