Honey is not just a sweetener Popular It is in tea or on bread, but is also a popular ingredient in beauty products; Because there is a good reason for this: it cares for the skin naturally and non-chemically.
In ancient Greece and Rome, the properties of honey in beauty were considered. Cleopatra often bathed in a mixture of milk and honey. To date, honey is one of the most popular ingredients in skin care products due to its antibacterial and anti-inflammatory properties.
The properties of honey for the skin are mainly considered in facial skin care. The advantage of this natural product is that it gently cleanses the skin without irritation. One reason for this is that the pH of honey is very close to that of the skin. Therefore – unlike many artificial care products – it does not attack the skin's natural protector and also provides many important nutrients for it.
Honey not only sweetens our daily lives, but is also in great demand in skin care products. Most importantly, its anti-inflammatory, emollient and moisturizing properties make honey a very popular ingredient in creams and the like.
Honey not only contains important amino acids, minerals and trace elements, but is also characterized by a high content of vitamins C, B2 and B5 as well as niacin and pantothenic acid. The amino acids in honey regulate the formation of hair and skin cells. Trace elements such as zinc or iron in honey strengthen hair and are effective in improving the body's metabolism. Improving metabolism will lead to the fact that the body can better detoxify. This in turn stimulates the regeneration of skin cells.
Vitamins B2 and B5, which are responsible for building tissue, also play a natural role in skin regeneration – so it is not surprising that honey is often found in anti-aging creams. In addition to the elasticity of the skin, honey has a positive effect on skin moisture, so it is suitable for treating dry skin or cleft lip and also its softness again.
The properties of honey for the skin are multifaceted: skin care from head to toe. This natural product offers complete care for all skin types. Now you know how bee gold makes you shine – for your most beautiful self!
What are the properties of honey for facial skin?
Properties of honey for pimples, acne and skin blemishes
Due to its anti-inflammatory properties, honey is a very popular and gentle treatment for acne. If applied topically or all over the face, it disinfects the skin and ensures that impurities do not turn into pimples. In addition to regular honey, Manuka honey is especially popular here because its antibacterial effect is even greater due to its methyl glyoxal. (For more information, you can refer to the properties of Manuka honey.)
Properties of honey for the skin around the eyes
Dark shadows under the eyes not only appear when you do not get enough sleep, but can also be due to dehydration or dehydration, as well as a lack of nutrients. Honey, with its high content of vitamins C, B2 and B6, as well as niacin and pantothenic acid, can completely neutralize this problem. Another advantage is that it stores a lot of moisture due to its high sugar content. (Source)
Benefits of honey against wrinkles
Honey prevents wrinkles by moisturizing the skin. Grandma's secret recipe in this regard is an almond and honey mask:
Just mix a tablespoon of almond oil with half a tablespoon of honey and apply to clean skin. After about twenty minutes, rinse it with lukewarm water.
Properties of honey for lip skin
Honey can be used as a substitute for lipstick! For particularly dry and chapped lips, we have an extra point: a lip mask made of honey and cheese. Of course, this combination also cares for skin burns, cools and soothes. This combination is tastier and more effective than medical lipstick and also lacks artificial preservatives that can be harmful to health.
A great moisturizing mask with honey and eggs
Cooling face mask with honey, argan oil and eggs gives you an intensive care program with moisture and cell renewal vitamins.
Elements:
One egg
Two tablespoons of argan oil
A teaspoon of honey
How to prepare and how to use:
Open the egg in a bowl and mix the oil and honey gently. Two to five drops of essential oil (eg rose oil) or propolis can be added for a more intense scent and extra care. The mask is refrigerated overnight and can be used the next day. Apply the mixture on the skin of the face, after about ten minutes, rinse with lukewarm water.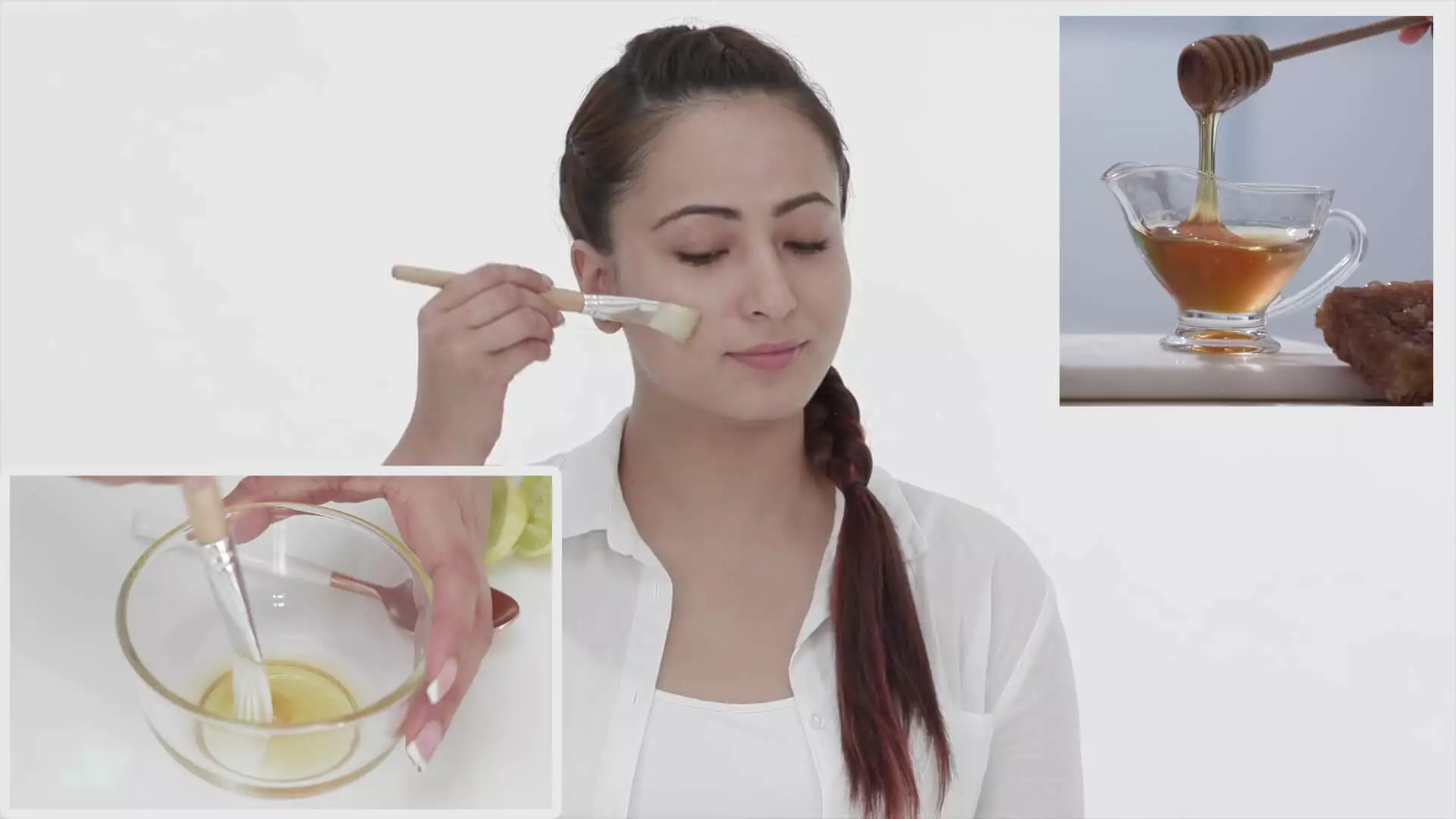 Properties of honey for damaged skin
Honey yogurt in the treatment of fungal infections of the skin
In the case of fungal infections, treatment with honey has shown a good effect. With natural cosmetics in the kitchen, you can easily create your own "first aid kit".
Materials needed:
200 grams of natural yogurt,
4 teaspoons honey,
2 teaspoons olive oil
How to prepare and how to use:
Mix all ingredients well to form a homogeneous mass. Apply the mixture to the affected skin area and leave it for at least 15 minutes. Then wash thoroughly. The course of use can be repeated three to four times a week.
Scientific studies show that a mixture of honey, olive oil and wax (in equal proportions) can reduce the symptoms of skin diseases.
Also, one of the properties of honey and cinnamon is the treatment of skin infections.
Properties of honey for dry and cracked skin on the hands
Especially in the cold season, many people experience dry and cracked skin on their hands. The anti-inflammatory and nutrient content of honey also helps here. You can easily create a care product rich in a high quality vegetable oil and a little honey.
To do this, heat two tablespoons of oil a little and add a teaspoon of honey. Thoroughly mix both ingredients. It is better to rub it on your hands in the evening before going to bed and leave it overnight.