Many of us are familiar with the properties of honey, this sweet nectar from bee pollination. This substance has long been used as a therapeutic substance in traditional medicine. Honey is also a popular natural ingredient for hair due to its many skin benefits. Here are the reasons why honey is useful for hair and the recipe for several examples of honey masks for hair is provided. In short, the main properties of honey for hair include: improving hair growth and preventing hair breakage.
Traditional medicine has long advised many about the benefits of honey for hair loss. Modern medical science has reached many points on this subject. Industries active in the field of pharmaceutical products as well as cosmetics in the last decade have produced and marketed a variety of products based on honey.
How does honey prevent hair loss and other related problems?
Everyone typically loses 20 to 100 hairs a day. But hair loss more than this amount causes hair loss. The cause of hair loss varies, including hormonal imbalance, poor hair care, malnutrition, taking certain medications, including vitamin A-rich medications, or medications prescribed to treat various conditions such as gout, high blood pressure, thyroid disorders and depression. . Although hair loss from these conditions can not be completely controlled, but by using methods, it can be reduced.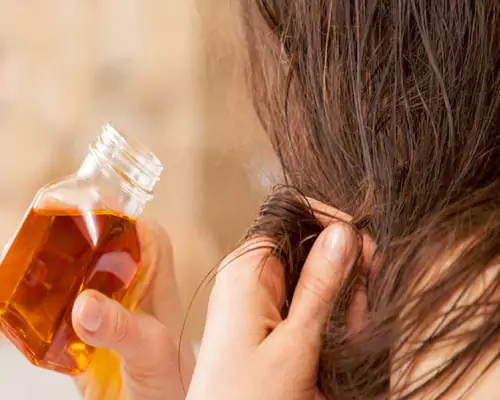 The vitamins in honey include the following, all of which are essential to the body: Antioxidants, creatine and flavonoids are three valuable substances in honey. Vitamins of the family A, B, C, E, H, K are among the rich and valuable contents of honey to strengthen and soften hair. Calories, proteins, amino acids and a variety of enzymes are also among the ingredients that affect the properties of honey for hair. Sugars such as glucose, sucrose, fructose and dextrin also reduce the body's need for artificial sugars. Honey has antibacterial properties that keep the scalp healthy and reduce dandruff and hair loss.
Honey as an effective moisturizer for skin and hair causes softness and softness of hair; To use, you can keep dry and damaged hair in a honey mask for 30 minutes before bathing.
Properties of honey for hair
Hair leprosy
Honey is a very good emollient. Before bathing, mix one part of honey with 2 parts of olive oil and apply to hair half an hour before bathing. Adjust the amount of oil according to the type of dry or oily hair.
The properties of honey for curly hair are possible through the absorption of active ingredients in honey masks and olive oil.
Protect your hair from the increase of this complication by daily massage of these ingredients in the areas where the presence of conjunctiva is evident. These two substances are high in vitamins and minerals to prevent the growth and proliferation of mucous membranes.
Hair breakage and dandruff
Consuming high nutritional value foods and regulating adequate water and moisture for the skin and hair minimizes such problems. The use of honey hair mask eradicates this complication.
Hair breakage
Honey contains a lot of creatine. This protein material turns brittle and weak hair into strong and thick hair. There are currently various keratin and protein shampoos on the market to strengthen hair; It is better to use home masks to solve this problem.
Stimulants for the scalp
Many people ignore scalp strengthening in ideal hair growth; But the fact is that the scalp must be a good substrate for hair growth. But how can hair be helped to grow and strengthen? Honey in the form of a mask can be a significant solution.
To strengthen your hair, you need to get help from various vitamins E and B in natural substances and provide nutrients to the body through useful foods.
A variety of honey masks for hair
Hair mask with coconut oil and honey
Coconut oil is a vital factor in hair growth and nutrition. It is rich in vitamins and minerals that are essential for hair follicles and improve the quality and texture of hair.
Ingredients of this mask:
½ Cup of coconut oil
½ Cup of honey
Mix the two ingredients in a bowl. Massage the hair and scalp well with the mixture and leave it for 20 minutes. Rinse with cold water and then a mild shampoo. Repeat this at least twice a week for the desired result.
Mask of honey, eggs and olive oil
Using a dual combination of honey and eggs is very useful. If you are looking for a vitamin mask, try the combination of the three. Using this mask will bring the hair to the desired thickness.
After a while, you will see that the hair is more resistant to hair color. Vitamins A, B, D, E and antioxidants in this triple compound help hair health. Therapeutic uses of this mask include strengthening hair follicles and hair follicles, hydrating and hydrating hair, preventing hair loss and preventing hair bleaching.
Honey and lemon hair mask
Type 1:
Use not only honey but also lemon to color your hair. Lemon juice, thanks to its acids, is able to lighten hair color significantly; Especially if the composition is accompanied by sitting in the sun.
However, in winter, lemons can also cause surprises in the hair, unless the hair is completely black and the owner is in a hurry to get immediate results. Before each head wash, apply natural lemon juice to the hair roots and leave it for an hour. Gradually you will see how your hair becomes more and more blond. The hair will probably turn red before it is completely light, but over time a light shade will replace it.
Type 2:
Add a teaspoon of honey to a liter of warm water. If you have blonde hair, add half a lemon juice. Wash your head with your shampoo, and finally, dry your hair with the resulting mixture. Do not wash your hair and dry it without using a hair dryer.
Honey and aloe vera mask
To hydrate the skin, relieve dry hair and dandruff, relieve scalp inflammation and any vitamin deficiencies, mix some natural honey and aloe vera gel well. To make a richer mixture, add olive oil and a little yogurt to the mixture and then keep this mixture as a toning mask on your hair for 30 minutes and then take a bath.
Honey naturally contains small amounts of hydrogen peroxide, which has a brightening effect on the hair. Discontinuous hydrogen peroxide in commercial products also brightens your hair, but because it is so much stronger it can cause serious damage to your hair. This is why many people use honey to lighten their hair. Turn on.
Honey also acts as a moisturizer, which neutralizes the drying effects of peroxide.
Honey mask for dry, soft and weak hair
ق teaspoon of natural yogurt;
3 tablespoons honey;
1 egg yolk;
A few drops of lemon juice.
Apply the mask to the roots of the hair and hold it for at least an hour, put a shower cap on your head or wrap it in plastic wrap.
Honey and egg hair mask
Two egg yolks;
1 to 2 teaspoons of honey.
This mask moisturizes the hair, stimulates and strengthens its roots and softens the scalp.
How to lighten hair with honey?
Using honey and not using chemicals is one of the ways to lighten hair and strengthen hair texture. This way you will have both light hair and healthy hair:
Make at least one cup of raw honey. You can get raw honey from reputable stores or health centers. In a bowl, mix four parts honey with one part water or apple cider vinegar and mix thoroughly until the ingredients are completely combined.
Honey is very sticky and water destroys its consistency so that it is easier to use on your hair. Also, apple cider vinegar acts as a natural conditioner. If you want a more intense color change, add some hydrogen peroxide to the mixture. This highlights the peroxide in the honey and reacts with your hair to lighten several strands.
Additives
If you have black or dark brown hair, if you add peroxide it may turn your hair orange. For blonde hair color, you can add henna powder, cinnamon or ground coffee to the mixture. A few tablespoons of hybrid petals add a strawberry color. Let the mixture stand for 30-60 minutes. This allows the ingredients to dissolve well.
Apply the honey mixture on your hair. Pull a towel over your shoulders to protect your clothes, then gradually pour the mixture over your head in small doses. Use your fingers to massage the honey mask into your hair and continue until your hair is completely saturated with honey.
Cover your hair with plastic and let the honey sit completely on your skin and hair. Use a shower cap or plastic sundress to prevent honey from dripping.
Minimum time
Keep the honey mask in your hair for at least two hours to have a tangible effect. If possible, keep honey in your hair overnight. If you have long hair that is difficult to hold under a plastic cap, gather your hair and hold it with hair clips, then place a hat or plastic cap on your curly hair. If you can keep honey overnight in your hair, you will get much better results. Put a towel on the pillow and go to sleep wearing a shower cap.
You do not need to use a heater to apply heat, honey works well at room temperature.
Wash the honey from your hair with warm water, then shampoo and style your hair as usual, then dry your hair with a towel and let it dry naturally in the air (do not use a hair dryer). Your hair will now be honey colored.
Use honey emollient
To do this, mix 1/4 cup of honey and 1/2 cup of any emollient you like. As long as the aroma is well mixed with honey. Mix the emollient and honey in a bowl until well combined. Use the same ratio of honey to the mixture to make more volume. And store the extra mixture in a bottle for later use.
Use this conditioner after each shampoo. After shampooing your hair, you can substitute honey conditioner as you use a normal conditioner. If your hair feels sticky after washing, reduce the amount of honey used and increase the amount of conditioner.
Concluding remarks
Some of the properties of honey are its antibacterial and antifungal properties. Hence, honey mask for hair can be used as a natural disinfectant for the scalp. In addition, honey is rich in vitamins and minerals that are good for hair. So, even if you do not intend to lighten your hair, please strengthen it with honey as a unique treatment and be sure that with a little patience you can benefit from the properties of honey for hair. Of course, you should know that by buying natural honey, you can benefit from these benefits; Because artificial and counterfeit honey can be very harmful.
Source:
https://www.daburhoney.com/benefits-of-honey/honey-for-hair/honey-hair-mask